Has Anybody seen the time???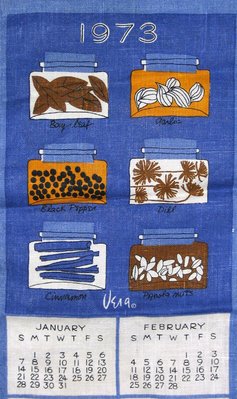 Where has the time gone? Did anyone see it fly away? How can the year possibly be almost half over? I started to ponder this question as I was listing the adorable vintage
Vera Calendar towel
on ebay. And I noticed that the dates for 1973 match the dates for 2007! Now, just in case you are wondering, no, I was not around in 1973, so I missed this towel the first time it was fashionable. But that's what I love about vintage items - I still get to appreciate them now! Although it does make me a little sad when I find a vintage item in such perfect condition that I can tell it was never used - just stuffed up in some old box somewhere for years. But, we're changing all that these days with a new appreciation of things from the past!
*This towel is sold!*