A Sneak Peek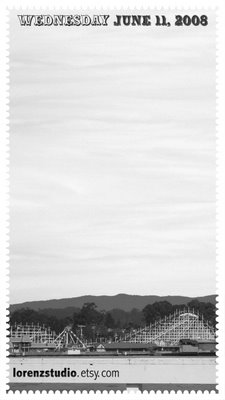 The oh-so-talented,
Fantazya
is putting together a diary with help from a "few" friends. A few weeks ago she posted her grandiose idea of having different shops that sell products on the Internet design one page for a 2008 diary she is putting together. Once I saw the post over on the etsy forums, I jumped at the chance to be included. So here's my contribution which incorporates a few of my favorite memories. I chose June 11 as it is our anniversary and I incorporated this photo I took of the Santa Cruz Boardwalk when Sean surprised me with an unforgettable trip for my 30th birthday. I think it's perfect summer fun and I can't wait to see what everyone else's pages look like. Thanks, Fantazya!
Please be sure to check out
Fantazya's etsy shop
where she features recycled fashions and natural beauty products.