This is turning out to be...
...one fantastic summer!!!
There is nothing quite like getting up at 3 am to support a husband's love of fishing! My husband and I have been talking about how fun it would be to own a kayak for years now. With our recent fishing adventure in Mammoth last month and our even-more-recent sport fishing adventure off La Jolla last week, Sean's love of fishing has been rekindled. So, he decides he wants to enter a kayak fishing tournament to see if it is something he would enjoy. He spends a few hours on the water fishing for the tournament with nothing more to show than a tale of catching a Baracuda (the
wrong
type of fish) and a seasick stomach! As we sit on the La Jolla shore watching the hordes of tourist kayakers try to make their way out past the break water with the swells getting increasingly bigger, we feel inclined to join them! So, he and I hop in our one person specially-rented-just-for-this-tournament-kayak and head out. We are laughing and enjoying each other's company as we head over to "the caves." I've always heard about "the caves" but could never really understand what all the fuss was about until we entered one!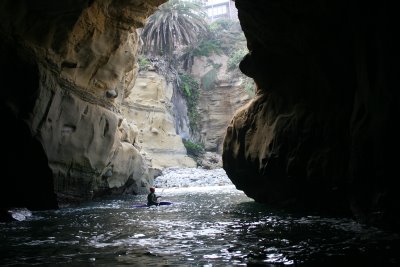 Such a beautiful adventure on a beautiful day.
But
the fun does not end there...
...after we paddled back in through the ever increasing swells and larger waves and Sean spotting an actual shark (yes, I said shark, but it's a really small one that can't hurt a person I am "assured,") we head over to the fishing tournament bbq.
We get to the bbq too early and are tempted to leave until we are told this is the best part of the day because there is fantastic food and an extraordinary raffle with a gazillion prizes where almost everyone is assured to leave with something. Well, that's enough to keep us around, and although Sean did not come home with the biggest fish of the day, he did come home with the
big
raffle prize of the day. We are now the proud owners of our very own kayak!!! And yes, the person that presented us with our new kayak was none other than the person we rented our kayak from! We are so completely blessed and are already planning it's maiden voyage!!!