English Bloke Calseti'nes (Socks for the spanglish impared)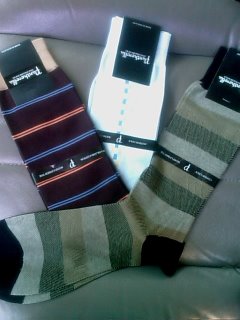 I got a tip 30 minutes ago.
One, (well three) that I'm really liking, and liking better than the standard $20 spot. You know the kind of gift that you wouldn't buy with your own mulla, but it's kinda corky to have, and you like it because you would never have a set if it was left up to you. You've seen something like it in a magazine somewere, and they made you cock your head and say "hum".
My client said "pic three", as he opened his file cabnet full of designer English made "SEA ISLAND COTTON" socks. Pantherella's is the brand, so the tag says. A little out of my class I think. Seriously, who spends $35 a pop on socks these days?
I dug through the box to find the most excentric goofy mugs that caught my eye. A Baby Blue pair with green and navy racing blocks running from toe to shin, a brown pair with blue and orange tracers and a more standard 3 colored olive drab pair.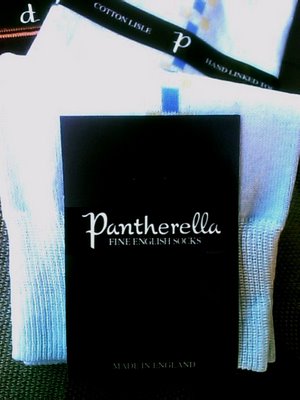 It may be harrasy, but I think I'm going to use them as Mnt biking socks? Ok, I may save the baby blue ones for a special one-on-one dance for the fetching Mrs. Lorenzen... Deeforloops, close your eyes chick, it's romance time.