Can we please go home now?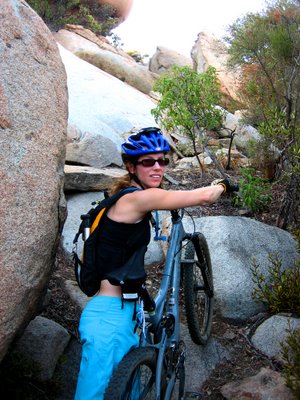 When one starts out on a trail with the word, "Mount, Mountain" or any other such word denoting a large obstacle, there is only one way to go when you are at the bottom of it - UP! There were more sections that I had to push my bike up than I care to admit and a few points at which I even had to pick up my bike to carry it over the rocks, but the reward was well worth it! The downhill single track on the back side of the mountain was spectacular and I think this was the funnest ride I've ever been on! Ironically enough, it dumped us out into the "leisurly" path I had spotted the week before when I accompanied my dad golfing. So at that point, we just rode home! And now we have a new favorite ride right down the street from us!
And in case you are wondering, no, we did not ride up or down the rocks you see pictured above. This was our, "I give," turnaround point!