Hello Snr. Taste buds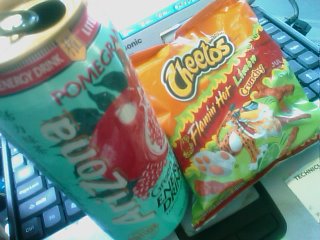 An experiment happened today.


It didn't go so well, yet way better than I would've thought... all things considered. I think I'd try it again for a wake me up.
$.99 Store Special

(a la carte)

:


Arizona
Green Tea
Pomegranate
lite
ENERGY DRINK
(lightly carbonated in small print)




Flamin HOT
Li'mo'n
Crunchy
Cheetos
(made with REAL CHEESE in small print)



=


A snack that's not as nasty as it looks, and it matches the Beiging '08 Olympic color scheme...