Cinnamon and Peppermint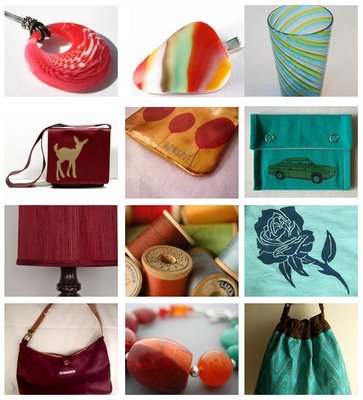 My latest treasury made it to the etsy front page for all to see and resulted in quite a few sales for some of the shops! If you like what you see, be sure to check out the shops:
Swirled Resin Donut On A Greek Leather Cord
by
CreationsWithHeart
(Sold!)
Art Glass Drop Pendant - Sherbet Swirl
by
liskidder
(Sold!)
Turquoise/Green/Steel Blue Cup
by
oliveglass
The Fawn Vinyl Messenger
by
SugarLust
Opulent Gold Metallic Leather Zip Wallet or Coin Purse
by
bonspielcreation
(Sold, but more are available!)
Turquoise Volvo Coin Purse
by
FastenCollective
handloomed silk lampshade in burgundy reds
by
schOOLLOcker
5x7 Thread print
by
Emmalynne
(Sold, but more are available!)
Blue Rose Light Turquoise Girls Tee
by
Morrigan
Maroon Corduroy Belt Bag
by
DesignbyDeean
Dreams of Pushkar Bracelet
by
cserdan
Camino Real - T-E-A Hobo Bag
by
aandvdesigns
I've replaced the sold items with new ones, but you can have a look
here
.
Hmmmm....just noticed as I posted the list on my blog, it looks a lot like my banner!