If they won't stay put...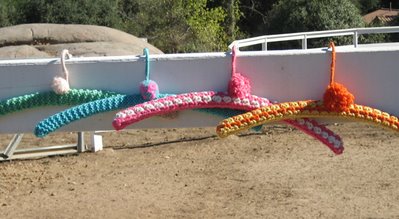 These vintage crochet hangers are not only pretty, but practical, too. I have certain pieces of clothing that are always falling off their hangers, but with these pretty crochet versions, clothing is sure to stay put. These would also make the most precious baby shower gifts as I just love to give the kinds of gifts that will stay with the little one throughout the years.
This set includes one hanger each of: grass gree, sky blue, cotton candy pink and orange & banana! These
pretty little hangers
are sold out!