Fresh From the Oven!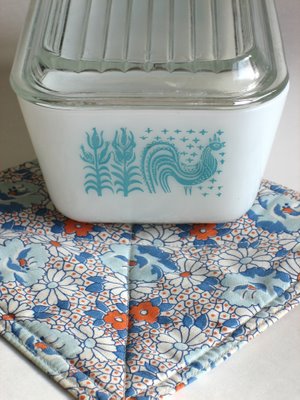 This charming vintage potholder looks positively perfect underneath the very first piece in my (ever-growing) collection of vintage Pyrex. I inherited this refrigerator container from my mother which had been passed down from her mother. I love the way this particular pattern, called Butterprint, lights up the whole kitchen any time I bring it out. This small container features bushels of corn next to a rooster and the larger pieces also contain images of a farmer and his wife. Too cute for words! Not only is the pattern to die for, but would you take a look at that color! I think this is where my love of turquoise comes from! And it just looks so pretty atop the wintry light aqua, cornflower blue and bright orange blooms on this potholder.
If you would like to purchase the pot holder, please contact me.
To find out more information about vintage Pyrex, visit
Pyrex Love
.