Oh Christmas Tree!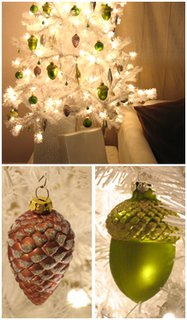 I've been busy hunting and gathering (as my mother would call it) some beautiful new and vintage Christmas ornaments and I have put together a Christmas Tree and Trim Kit that I am selling in my
etsy
shop. This tree has actually been up for quite a few weeks ( to the confusion of my poor husband), but I was waiting to find some finishing perfect touches. My favorites on the tree include the apple green acorn ornaments dusted in glitter as well as the brown
pinecone
ornaments which also have their share of dusted glitter on the tops. I came across some vintage mini green ornaments which remind me of hanging dewdrops and they add just the right amount of sparkle.