Holiday Lights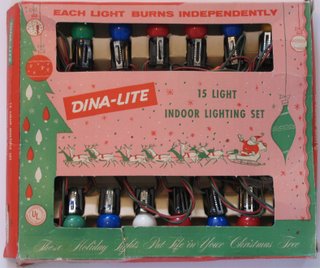 Not only am I in love with these vintage Christmas lights, but the graphics on the packaging are too cute for words. Santa is forever being pulled on his sleigh by the reindeer. The oddly shaped hanging ornaments are charming. And Dina-Lite even put their product on the Christmas tree. I don't know about your lights, but mine never stand straight up like have been illustrated in the picture to the left! Although the tag line at the bottom reads: "These Holiday Lights Put Life in Your Christmas Tree" so there must be something special about them!
If you are interested in bidding on this
Dina-Lite Set
or any other of the other 3 vintage Christmas lights I have up for auction, please visit
my eBay page
and click on the listings on the left side of the page.
*These lights are sold*