In the spirit of Thanksgiving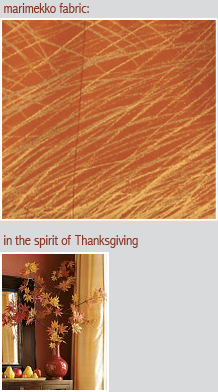 With Thanksgiving less than 2 weeks away, I have started to give some thought to the friends and family that enrich my life. I am so blessed to be living so close to most of my family and am taking such joy in watching our neice and nephews grow up. I am also so thankful for this blogging world in which we can enrich each other's lives with no barriers of distance. I am truly amazed at the people I have "met" along the way.
In the spirit of Thanksgiving, I am posting this Marimekko Fabric. Although it is not vintage, it does have a simplistic and modern retro feel to it. It reminds me of the fields I see out here in the country. I have decided to pair it with the
Maple Leaf Branch
from
Pottery Barn
since the changing colors of Autumn is somewhat absent in Southern California!
**This fabric is sold**