Pretty Purple & Pink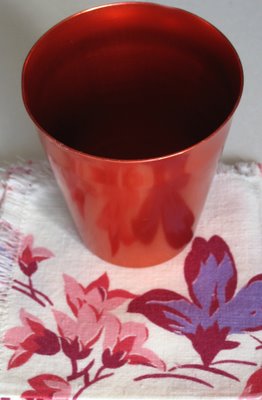 My grandmother had a set of aluminum glasses similar to the one pictured above, so when I came across a set of 4 small glasses, I knew they had to be mine. And doesn't this one look adorable sitting atop this vintage-fabric-acting-as-a-coaster! I have a set of 4 pieces of this fabric available. Each piece has been stitched all the way around and the edges have been allowed to fray. They would look perfect as napkins atop your dining table, as coasters as pictured above or any number of crafts for your upcoming Valentine projects!
If you would like to purchase this fabric, please contact me.