And I thought I loved the water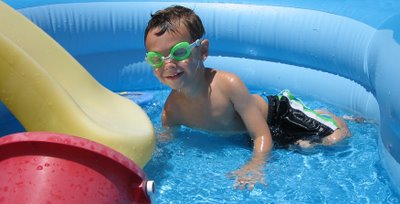 It looks like there's a new lime green fish in town!
When I was little I absolutely loved swimming in our pool. My mom had made me a lime green swimsuit and the nickname, "lime green fish" stuck with me. But since this little guy's favorite color is green, I now think the nickname should be passed on to my nephew! Robby and I had so much fun "swimming" in his pool today. We made a water slide, searched for a penny underwater, made lots of waves and practiced our kicking. He's a definite lime green fish in training!