Back to our regularly scheduled chick posts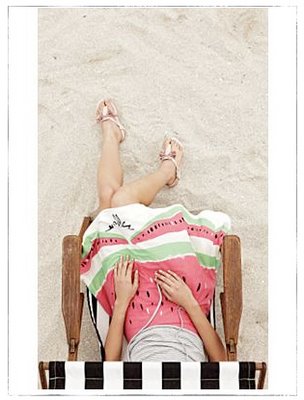 Although its had quite a varied history, in its short span, this blog is actually quite an accurate representation of me. My interests are quite varied - from art to the outdoors and lots of things in between. I went from showcasing pictures of pretty vintage items in
my etsy store
to displaying photographs of dirty race vehicles. And I love it. And I love this picture above.
I love the vibrant colors. I love that it screams, "summer!" And I love that it's a freakin' watermelon on a skirt. And in case you didn't know, it has a vintage twang to it. It seems
Anthropologie
teamed up with the company in control of
Vera Neumann
designs. Vera was a very popular designer in the 60's and 70's. Best known for her design of scarves, she also designed apparel, fabric, dinnerware and kitchen towels. When I saw this skirt it reminded me of my first Vera purchase: a bright pink vintage kitchen towel I picked up at the antique store quite a few years back. It was then that I fell in love with all things, "Vera." The watermelon skirt might have to be a special splurge because I'm pretty sure it's destined to become a classic and coveted vintage piece one day!
photo courtesy of anthropologie
Labels: anthropologie, vera neumann, vintage