Another Contest!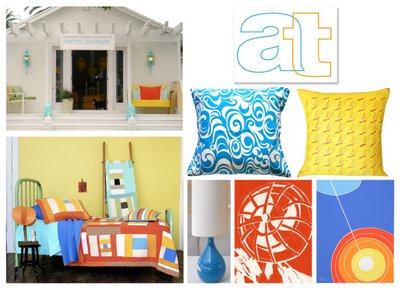 Inspiration can be found all around us and Holly, over at
decor8
, is great at getting her readers to stretch their imaginations. She is now sponsoring the Fabulous Stationery
Contest
: Cards as Inspiration. All you have to do is choose one notecard from
Fabulous Stationery
and choose 3 rooms that relate to that notecard somehow. Here is my explanation of my
entry
for the contest: The name of the card I selected is, "Skinny Initials." Perhaps a bit of an unusual choice for the contest, but I love the use of contrasting colors as well as the use of negative space. I was also drawn to the linear quality of the letters. I primarily used the contrasting colors of turquoise and orange in varying shades for the rooms and accessories. White also became an important color in each of the rooms. I chose the porch image because I love to consider the outdoors as an extension of our living areas. The bedroom image was chosen for its use of color. I could not find another room that fit perfectly with my vision, so I chose some items I thought would work well together in a room. It is always important to me that a room evoke an immediate sense of "wow" and each of these rooms make my eyes light up with delight!
Why don't you try one of your own? More details can be found
here
.
Labels: mood board