Keeping up on Asian Foreign Relations. It is an election year right?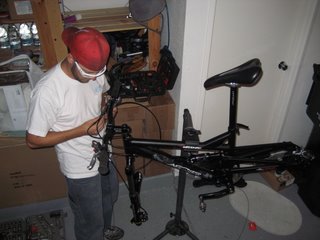 So, the Yo Diddles Mr Skittles (Yoichi is the name his mother gave him), decided he needed to one-up-me in a game of "who has the most travel now sucker". He got a new mountain bike frame. Up until a couple of weeks ago we were riding the same 4" KHS frames. He upped the ante', and is now riding a 5.5" Azonic. Quite a beauty I must say.
We took the Azonic on it's maiden voyage to Noble Canyon 2 weeks ago, then on a 20 miler last weekend. Today we pulled 30 miles and I think we bit off more than we could chew... I've slept since I got home today at noon! My body told me "ah ahh, son...Take a seat, tough guy...I'll call you when I'm ready"
To many more miles aboard the new steed! Cheers.
Sean
Ps: Please notice proper bike building requires proper tongue placement. I've stuck my tongue out like that since I was a wee lad. It happens when ever I'm concentrating. I'm bound to bite the sucker off...